Touch Typing Classes for Children
Touch typing courses for children of all ages and abilities.Teaching centers and online courses available.
Computer Coding and Touch Typing for Children
Category: Touch Typing Classes for Children
'All children should learn to touch type' Daily Telegraph ....
Close to London
Suitable for anyone in the family - ages 7 - 107
Uses several types of software to meet all needs.
Courses run for four mornings. Cost £265. Family & early booking discounts
Relaxed stress free holiday course
Teacher is a qualified special needs tutor and typing trainer
Recommended by the Richmond Dyslexic Association but suitable for anyone
Private touch typing tuition throughout the year
Visit the website below for further details
Private tuition for students with learning difficulties, 11+ and up to 18 also available
Email: [email protected]
Category: Touch Typing Classes for Children
Cert Ed. SpLd5 - Literacy/Numeracy, ADD/ADHD Coach
Bespoke Touch-Typing Holiday Courses for Children of all Abilities
With 20 years of experience Yvonne Thomas delivers touch typing holiday courses where each child is taught as an individual, recognizing their needs and abilities, enabling them to learn a new skill or continue to improve their skills to help them grow in confidence and increase their self-belief.
Yvonne offers structured touch-typing classes with working memory exercises to develop muscle memory and increase speed.
The courses run for 2 weeks, with 9 hours of tuition spread over 3 days, then children are given individual online exercises to work on at home, this work is remotely monitored by Yvonne. At the end of the course a detailed report of their progress and recommendations is sent to their parents.
New students learn to touch-type without looking at the keyboard
Intermediate students will continue to improve their skills by correcting any bad habits and improve accuracy and speed.
Focus, speed, self-esteem and exam pass rates are all improved
Bespoke group holiday courses can also be arranged by request
Students are able to use touch-typing in exams and have improved their pass rate considerably.
One to One tuition for children with dyslexia and special needs
2019 HOLIDAY COURSE DATES:
October Half Term: 28th, 29th, 30th October
Holistically developed life skill touch-typing classes in Maidenhead tailored to benefit all learners.
Category: Touch Typing Classes for Children
STEM courses for children interested in coding, game design, and creative media. See below for details.
Remote tech courses for kids 9-17. Learn coding, video game design, artificial intelligence and MORE! Enjoy live teaching from expert tutors. Structured classes from 10am-3pm. Join over 30,000 other kids. Get £25 OFF with code ALL25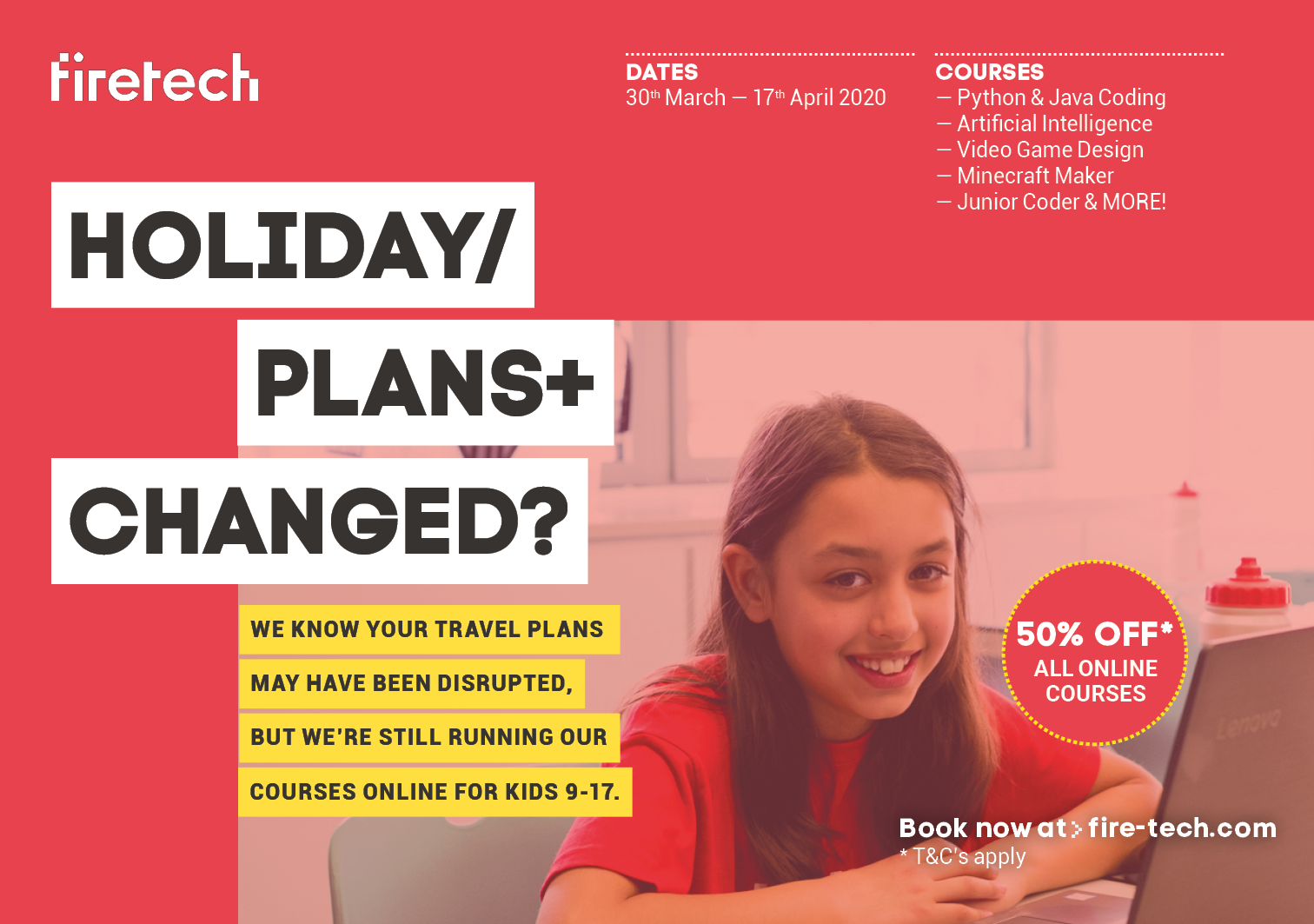 Children's holiday day camps in London, Bristol, Cambridge, Manchester, Reading, Surrey, Winchester, Windsor, and Edinburgh.
Children's residential holiday camps at Wycombe Abbey School in High Wycombe
Term-Time courses in London, Cambridge, and Manchester
Category: Touch Typing Classes for Children
Touch typing classes supported by an experienced & dedicated tutor
Weekly touch-typing classes and intensive holiday courses for students aged 8-18 years. Type IT! is also an Accredited DofE Skills Centre helping teenagers achieve their Bronze/Silver Awards.
Is your child slow at typing? Hunting and pecking with 2 fingers? Do they need to use a laptop to support their learning? Or would they just like to learn an essential life/work/DofE skill?
Touch typing frees the brain to be creative and speeds up the process of getting your ideas and thoughts down onto paper. Perfect for helping students complete homework and coursework in super-quick time.
Wendy Petersen, Course Director for Type IT! says, "We have worked with thousands of young students to help them achieve high accuracies and typing speeds to equip them for this technological age we now live in."
Lessons follow the National Literacy Strategy
Boosts confidence and self esteem
Ideal for children with Dyslexia/Dyspraxia
Small groups
Holiday courses and family sessions
Email: [email protected]
For further information see our website:
Category: Touch Typing Classes for Children
Unrivalled Education, Tuition & Academic programmes for ages 3 -18
At Regent Learning, we create confident, independent learners by discovering and targeting the causes of academic frustrations and focusing on understanding and retention through repetition to achieve academic success.
We are a division of Regent Group, a group which specialises in the Educational Sector. Regent Learning acts as a partner in your child's learning in English, Maths and the Sciences. We believe that we are part of a triangular alliance to ensure that your child reaches their full potential.
Primary for Ages 3-11
Year 6 SATS for ages 10-11
Key Stage 3 for ages 11-14
GCSE Preparation for ages 14-16
ICT Program for ages 5-16
One-to-One Tuition for ages 16-18
11+ Independent School Entrance Exam Programme for ages 3-13
11+ Grammar School Entrance Exam Programme for ages 8-11
Oxbridge Application Program
Holiday School for ages 3+
For Children's English, Maths, Science, Computing and ICT tuition in Harrow contact : 167 Imperial Drive, Harrow. Tel: 020 8966 9900
For Children's English, Maths, Science, Computing and ICT tuition in Edgware contact : Boundary House, 2 Turner Road, Edgware. Tel: 020 8951 6140
For Children's English, Maths, Science, Computing and ICT tuition in Wembley contact : Madison House, 24-28 London Road, Wembley. Tel:020 8090 3390
Category: Touch Typing Classes for Children
Bracknell Tutors
Private Tuition in Berkshire
Bracknell Tutors have been established since 1989 offering expert one-to-one tutoring in basic skills; reading, writing and arithmetic covering English, Maths and Sciences up to GCSE and A-Level throughout Berkshire.
We offer:
Over 25 years, Full-time experience in coaching and developing courses
Unique coaching material and methods for lasting skills and study techniques
Superior track record, with Top marks in entrance exams and scholarships
In-depth support, with educational counseling base on personality profiling
Children's Reading, Writing and Arithmetic, Maths and English, The Sciences, I.T. and Computing, Art and Design, Latin and Ancient Greek, Modern Languages tutors in Bracknell, Berkshire
Tel:
01344 488084
Mobile:
07557 378788
Category: Touch Typing Classes for Children
Who knew touch typing could be so much fun! Weekly intensive Touch Typing Courses for Children aged 7 – 18 in Holidays and Half Terms
Weekly Touch Typing Courses
Based in Fulham
Every holiday and Half Term
Small Group Sizes, lots of individual attention
Beginners, Intermediate and Refresher Courses
Suitable for all children – SEN friendly
5 days a week – 1.5 hrs per day
£250 per week – sibling & returner discounts available
2-3 Teachers per class
Endorsed by School SENCOs
Children enjoy the course and want to come back!
Email: [email protected]
Children's touch typing classes in South West London – Central London – South London – West London
Category: Touch Typing Classes for Children