Bedwetting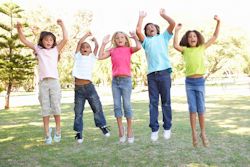 WELCOME TO THE ALL 4 KIDS UK BEDWETTING PAGE. BELOW YOU'LL FIND HELPFUL TIPS AND ADVICE

Bedwetting - Don't despair, there is a solution.
If your child wets the bed, don't despair, modern bedwetting alarms are medically proven to cure 90% of children.
One in seven children between the ages of 5-18 wake each morning to a wet bed and a feeling of disappointment. Most doctors cannot refer a child to an enuresis (bedwetting) clinic until the age of 7; then there is a 2-10 month waiting list. The irony is, for most children there is a simple yet effective method of curing the problem at home. Comfort and confidence are essential so that the child goes to bed as usual undisturbed by any change of routine.
ENURESIS - BEDWETTING - WHY DOES IT OCCUR?
Bedwetting is, in the majority of cases, caused by a simple lack of control over the bladder whilst the patient is asleep. Although there are other causes, such as bladder infections and bladder defects, these are very rare. Bladder control in a child is obtained in two stages. Children first learn to maintain control during the day by 'holding on' if necessary and continuing to do so until they reach a toilet. They then learn to maintain control during the night and this is achieved when they are able, whilst asleep, either to 'hold on' until the morning or awaken themselves when the pressure in the bladder reaches an uncomfortable level. With children who wet their bed, the brain reacts to the first feelings of discomfort by simply allowing the sleeping child to release the contents of the bladder into the bed without disturbing the child's sleep. If control is not obtained naturally. this trouble can, and often does, continue for many years, even into adult life. The condition is normally made worse by threat or punishment.
HOW CAN IT BE STOPPED?
If the patient can be awakened by an alarm each and every time wetting occurs, then the brain will quickly realise that remaining undisturbed by wetting the bed is no longer possible (as the patient will be awakened by the alarm any way!) The extra disturbance caused by also having to deal with a wet bed will be such that the brain will recognise that it is now easier to cause the patient to 'hold on' whilst asleep or to awaken if the bladder pressure becomes excessively uncomfortable. Dry nights will start to occur almost immediately. Once this pattern has been reliably established, wet beds will cease and use of the alarm can be discontinued. The child will remain dry at night.
IS IT SAFE?
YES. IF IT IS A CLASS 1 MEDICAL DEVICE COMPLIANT WITH MDA DIRECTIVE (Annex VII) 93/42 EEC.