Skiing with Children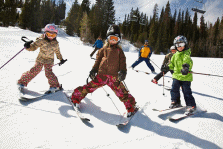 WELCOME TO THE ALL 4 KIDS UK SKIING WITH CHILDREN PAGE. BELOW YOU'LL FIND HELPFUL TIPS AND ADVICE AND FIND A SELECTION OF THE BEST FAMILY FRIENDLY SKIING HOLIDAYS HERE
TAKING CHILDREN SKIING FOR THE FIRST TIME
The following advice may be useful whomever you go skiing with.
The following hints should help those of you taking children on a ski holiday for the first time.
Useful things to bring, particularly for younger children:
Favourite toys and comforters.
Favourite food items (e.g. if Marmite is a must, some maybe left behind by previous guests, but otherwise you may find it unavailable!).
A favourite book or cassette.
Slippers: as many chalets have wooden or stone floors so these are useful not only for comfort but also to avoid accidents.
Babies and toddlers
If your baby is on formula milk, we recommend that you bring sufficient with you for your holiday as British brands are generally not available in the Alps. If you are breast feeding and intend to vary your normal feeding times during your ski holiday, it is advisable to introduce the new routine well beforehand.
Childcare
You may be thinking of utilising childcare whilst on holiday – younger children ( less than 3 years old) will probably find skiing too demanding but can still have a lot of fun in the snow . Others may not be up to a whole day on the slopes so again childcare might be a good option.
For any children, please ensure that they do have suitable clothing both for indoor and outdoor play.
For little ones in childcare, it helps if you write down their usual routine, such as eating habits, if they are used to a rest during the day, favourite toys and other information then the child carers need to know, so that they can try to keep life as normal as possible for them.

If your child is taking any medication, please ensure that full details are written down and that the medication is clearly labelled with your child's name and the dosage instructions, so that it can be administered at the appropriate times.

Just a reminder, most companies are unable to look after sick children, particularly when there are others with them in childcare, so if children become ill during the holiday parents will need to look after them. We appreciate, from personal experience, that this is annoying, since you may have to miss out on your own skiing, but it is preferable for the sake of all the children involved.
Clothing:
All children, whether skiing or just staying in a chalet, will need warm outdoor clothing including hat, gloves/mittens and warm boots that are waterproof and comfortable. It is a good idea to re-proof old or second-hand outer clothes which may no longer be impermeable. Several thin layers act as better insulators than one thick one, and even children who are too young to ski should be warmly dressed when they go outside.
A high factor sun cream is equally important in the mountains, given the reflection from the snow and the increased intensity of the sun at altitude. Children should also have good quality sunglasses/ski goggles. A string around the sun-glasses will stop them going astray, goggles are sometimes easier for younger children when skiing as they stop the snow getting in the eyes when tumbling and also do not fall off.
Buying new can become very expensive if you are kitting out the whole family for the first time. Some specialist shops sell second-hand and/or offer a hire service. Go into the All 4 Kids UK Skiing category for information on companies that can help you.
The Ski Club of Great Britain (0845 458 0780) may have pointers for hiring or buying second-hand clothes in your area.
Alternatively, if a friend has children of the same age and you're planning to go at different times, why not club together and share.