Eating Out with Kids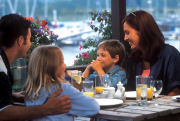 WELCOME TO THE ALL 4 KIDS UK EATING OUT WITH KIDS RESOURCE PAGE. BELOW YOU'LL FIND HELPFUL TIPS AND ADVICE FOR PARENTS AND CARERS KINDLY SUPPLIED BY CATERED 4 THE KIDS LTD
EATING OUT
Introduction
One of the great family traditions is unfortunately slipping away down the side of the sofa, that of eating together. However there is a growing call to convince us that eating as a family has great social benefits. To some, family dining can be a traumatic occasion in the home, so it's not hard to fathom that eating out together can prove to be a logistical nightmare.
Getting it right is not that hard and the sense of enjoyment when you do makes it worth the effort. It may be a cliché but the family that plays together does stick together.
Planning is the key; we have listed some easy to follow steps to try and help make the next time you and your family eat out a great success.
Be Prepared
Firstly pick the right place to go. It always pay to contact the restaurant/pub to ascertain if they are truly family friendly and not just tolerant. If they are, make a booking, this will smooth things for both you and the Operator when you arrive.
Enforce some ground rules before you leave. Set guidelines appropriate to the age group of your children and this will avoid sudden unknown demands that you make upon them.
Take things with you that will help fill the "quiet" moments is always a good idea. Try to avoid anything noisy that could upset fellow diners or messy felt tips.
Make it special
Prior to going out, make the treat sound like a reward for something well done. Build up their excitement alongside the fact they must be on their best behaviour and that standards you set at home will be enforced whilst you are out as well. Let them put on their specials clothes and talk about it before hand.
What to look for
This is totally down to your own standards that you have at home but try to make sure that the menu consists of a mixture of new and exciting things to try as well as recognizable favourites.
Choose the appropriate venue that best reflects the style and quality of the food you want your child to eat.
If you have a baby, make sure when you make your booking that you find out if they have highchairs and appropriate changing facilities; can you get your buggy in and is there a vast set of stairs to the entrance? If appropriate you should ask about their policy on breast feeding. Above all find a recommendation from a friend of somewhere that they enjoyed, it's worth a hundred adverts.
Behaviour
The most important thing to consider is that you have realistic expectations. You should not expect a young child to sit at a table for hours on end with out any form of amusement. Order your children's meals as soon as possible. If you are having a starter, ask the staff to serve their meal with your starters. If both parents are present, try to share the responsibility between you. This not only helps keep the child amused for longer but also ensures that you get a chance to eat your own meals!
Be aware of the staff serving you; try to be understanding and considerate with your server and they will feel less awkward about how to approach your table. Unfortunately, in many cases, staff are not trained to look after families and have little experience of children themselves.
At the end of the meal do not spend long periods of time talking; you would not expect your children to sit at a table to do this at home.
Most important of all is for you to stay calm and enjoy the experience as well. Bringing up children into well mannered and considerate adults does not happen over night, so you should not expect them to master the art of eating out in one visit.