Diabetes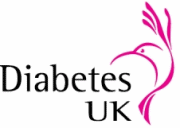 WELCOME TO THE ALL 4 KIDS UK DIABETES PAGE. BELOW YOU'LL FIND HELPFUL TIPS AND ADVICE.
Special Thanks to Diabetes UK for supplying the information
Diabetes UK
Web: www.diabetes.org.uk
Tel: (020) 7424 1000
DIABETES
Diabetes — or to give it its full name, diabetes mellitus — is a common condition in which the amount of glucose (sugar) in the blood is too high because the body is unable to use it properly. This is because the body's method of converting glucose into energy is not working as it should.
There are approximately 1.4 million people diagnosed with diabetes in the UK, this includes around 16,000 children under 16. We estimate there are also one million people who have diabetes but don't know it.
There are two types of diabetes.
Type 1 Diabetes: Most children with diabetes have Type 1 diabetes, it's treated by injections of insulin and a healthy diet. People with this type of diabetes commonly take either two or four injections of insulin each day. Type 1 diabetes develops quickly, usually over a few weeks, and symptoms are normally very obvious.
Type 2 Diabetes: This is usually found in people over 40 and can be treated with diet and exercise alone, although it can often require tablets and sometimes, insulin. This type of diabetes often has a link with lifestyle factors - we know that being overweight and leading a sedentary lifestyle can increase your risk of getting Type 2. Type 2 diabetes develops more slowly and the symptoms are usually less severe. Some people may not notice any symptoms at all and their diabetes is only picked up in a routine medical check up. Some people may put the symptoms down to 'getting older' or 'overwork'.
What are the symptoms of Diabetes?
- Increased thirst
- Going to the loo all the time – especially at night
- Extreme tiredness
- Weight loss
- Genital itching or regular episodes of thrush
- Blurred vision
Diabetes UK
Diabetes UK is the charity for people with diabetes. With nearly 180,000 members, it is the largest UK charity devoted to the care and treatment of diabetes and dedicated to campaigning for the rights of people with diabetes. Diabetes UK funds research into diabetes and is committed to providing both education and support to people with diabetes – from all backgrounds.
Children's holidays Diabetes UK has been organising family weekends and children's holidays for many years. We are committed to providing families who have a child recently diagnosed with diabetes with support, information and the opportunities to share experiences and to discuss both emotional and practical issues around living with diabetes. At the same time we offer safe and expert care for children when they are taking part in their own activities. For further information go to http://www.diabetes.org.uk/events/index.html or call 020 7 424 1000 and ask for the Care Support Team.
Diabetes Information The Diabetes UK Careline offers information and support on all aspects of diabetes. It provides a confidential service which takes enquiries from people with diabetes, their carers and from healthcare professionals. All of the Diabetes UK Careline staff are trained counsellors. Careline Tel: 0845 1202960 Email: [email protected]
Alternatively for general information on diabetes you can visit our website at www.diabetes.org.uk.
If you are interested in joining Diabetes UK please contact our Customer Services team for further information:
Email: [email protected]
Tel: 020 7424 1000. (during office hours)