Child Development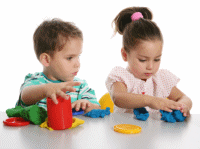 WELCOME TO THE ALL 4 KIDS UK CHILD DEVELOPMENT PAGE. BELOW YOU'LL FIND HELPFUL TIPS AND ADVICE AND FIND A SELECTION OF THE BEST COMPANIES OFFERING STIMULATING AND IMAGINATIVE TOYS HERE: TOYS
Play is how children can learn what none can teach - Lawrence Frank 20th century
The freedom to play and learn is the right of every child, whatever their background, religion or family structure. Through play a child's ability to learn and develop is heightened with physical, intellectual, emotional and social development.
As a child develops the ability to "actively think" they are able to take on a greater amount of knowledge as they quicken their process and grasp of concepts and ideas. They begin to form patterns and develop consequence emotion from which the "personality" can develop at a far deeper level. Learning style greatly impacts on our character and when considering how to develop our children it is useful to understand your child's learning style. Broadly there are two different learning styles either:-
Impulsive - acting before thinking, driven by impulse and instinct and not waiting or wanting to evaluate
Reflective – thinking before action, gathering information first and applying thought in a problem-solving manner acting in a timely manner
Play form itself and how children might put their learning style into practice can be further defined as either:-
Free Play - where a child sets out their own rules. This play form often engages the child for longer periods of time where they can become fully engrossed in the activity they have created
Structured Play – usually adult led or structured with play being more limited with less opportunities to be inventive
These two form of play can be further categorised into four different types of play, each playing a contributory factor:-
Functional Play – an early form of play where a child learns through touch, taste, use and noise – what does an object do?
Constructive Play – play with materials, learning the physical properties of an item before going on to construct things
Pretend Play – emerging as imitation initially the child goes on to re-enact experiences and then by using pictures in their mind the child visualizes how events are related
Games with Rules – aiding concentration and setting limits in order help social behaviour
As a child develops we can categorise 6 different play styles each contributing individually to the learning of the child.
Unoccupied – Observation of others with no active involvement
Onlooker – More direct observation engaging perhaps in conversation but not taking an active role
Solitary or independent – Separate from others and not taking any reference from them at all
Parallel – Playing with similar objects but clearly not playing with them but playing alongside
Associative – Playing with others but not actually co-operating , we're doing, we're sharing but not as a unit
Cooperative – Everyone has a role and there is a sense of belonging
Finally we must consider the physical attributes of play, a key area where preference and ability plays a part. Encouragement in each of these areas of play develops ability and might identify unknown talents. These play attributes are:-
Physical play – learning through bodily sensations and movement, encouraging hand eye co-ordination and developing fine motor skills.
Linguistic Play – based on words and writing, learning through books
Logical Play – Often involving arithmetic this relies on reasoning and sequence, the use of puzzles and problem solving activities
Musical Play – based on rhythm which encourages a new level of interaction with the outside world
Spatial Play – thinking in pictures this encourages a child's creative side and stimulates observation skills
Intrapersonal Play – encourages an understanding of ones inner feelings, often involving solitary play, exploring at their own time and pace
Interpersonal Play – encourages communication and teamwork through dealing with others
Naturalistic Play – being aware of plants, animals and nature around them
Existential Play – being able to wonder and enquire after the what if
All children develop and learn by experiencing the full variety of play. As a role model it is important to encourage play and to look for ways at enhancing it. Do this by:-
Allowing time for exploration through quiet supervision and safety checking
Watching your child at play and being ready to join in but not to take over.
Provide play areas where they feel safe and secure but where they have the facility to alter it for themselves
Provide play time; be in at bath time, meal time or getting dressed time
Provide play materials and arrange them so that children have easy access; a low shelf unit is preferable to a toy chest
Encourage different play styles using what you have learned here whilst encouraging them to practice, repeat and explain their ideas.
Accept invitations to play mixing with others of a similar age which in turn encourages greater role playing activities and improves social awareness.
In this computer and television dominated age children have come to expect playtime to be instantaneous; here and now. However, the very spirit of play is that it encourages imagination and improves social skills. Through play a child learns about himself and the others around him which in turn teaches him how to deal with others in the wider world. By limiting our children's time in front of the television and by encouraging other pastimes we can develop our child's greater sense of self which improves their understanding of the wider world in which they will live in.