Why every child should study Games Design and Animation!
Think about it, how many people around the world play video games? How many games have been created so far? How many games are released every year? Most importantly, how big is the games design industry, and can it be looked at as a potential career?
In this article, we discuss the growth of the games design industry, its contribution to the economy and we explain why your children should study Games Design!
Job Growth within Games Design
The games design industry is growing at a very rapid pace. Based on the latest available government's statistics, the Games Design industry grew by 60% from 2012 to 2014.
The government has report the Games Design Industry to have created:
15,000 jobs in 2012
19,000 jobs in 2013
24,000 jobs in 2014
You can read the government's report by clicking here.
Shortage of workforce in Games Design
With the ever growing sector of Games Design, the demand for games designers such as 3D modellers, animators, level designers and artists has greatly increased.
This has led the government to include roles within the Games Design sector to be part of the Shortage Occupation List.
The shortage occupation list contains job roles which the country requires more workforce for, and is used to grant working visas to individuals holding relevant qualifications and talents.
You can view the shortage of occupation list by clicking here.
The Industry
The Games Design sector is part of the Creative Industry, and here are some interesting facts and numbers for this industry.
Known as the UK Creative Economy, it produces 2.8 Million jobs!

Which means 1 in 11 of all UK Jobs!

That is 8.8% of UK total jobs!

29% of all UK's Creative jobs are in London!

The creative Industry contributes £10 Million an hour to UK economy!

That is £87.1 Billion a year!
The growth of the industry means the growth of companies. The graph below illustrates how companies have grown throughout the years.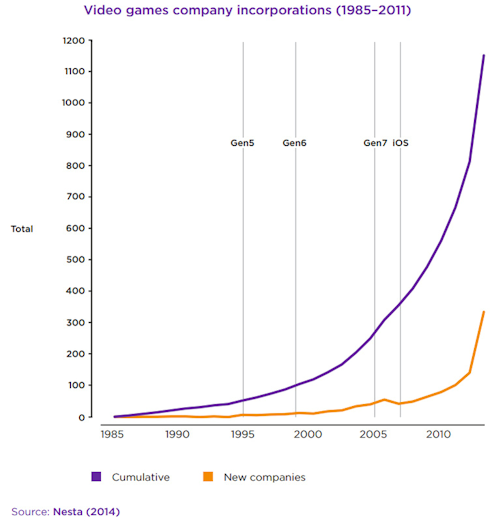 Transferable skills
Studying computer games design teaches many different valuable skills such as 3D modelling, creating materials and textures, producing animations and renders, as well as level design, game creation and logics. Such skills are highly valuable within the Games Design industry, however one could claim they are sought after even more in other industries! Today we have 3D visualization companies, signing multi-million projects to create 3D projects and animations.
Such projects, strongly utilise on the same skills and tools used to create video games.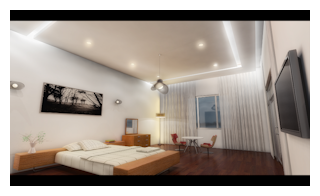 In today's film industry, almost every single movie uses the same technology used in Games Design to aid the production of their most complicated scenes.
Every superhero movie, every action thriller films use the power of 3D modelling and animation. We haven't even yet mentioned all the Disney and Pixar movies which are entirely created using the same technology!
Where to start?
The games design industry is a huge sector of our economy as it is rapidly growing. It also produces many jobs all around the world.
With all its growth and huge amount of available jobs and vacancies, it must be noted that it's not easy to work in this industry.
Individuals must be very skilled and have a decent portfolio to showcase.
At Software Academy, we've designed a course specifically for children aged 9 to 16 which teaches them 3D modelling, materials & texturing, animation and game logics.
The course is delivered by an experienced university lectures and all the tools used in our course are the same tools used by professional in the industry to create games and movies. The course teaches transferable skills which, besides the games industry, can be used in many different fields such as films, visualization, advertising, virtual reality, architecture, medical innovations, engineering and much more!
Sign up to our courses now and turn your children's hobby into a professional career!
See our website for details: http://www.softwareacademy.co.uk