Barracudas - The UK's number one multi-activity day camp!

Barracudas offers kids aged between 4 ½ to 14 years bags of fun in a safe environment in the school holidays. They've been entertaining children for almost 30 years so definitely know what they're doing!
This family-run company is a leader in the field, offering an amazing experience for children in fantastic settings at 34 Easter camps and 43 summer camps in the south east of England. Each location has been carefully selected for its convenient location and impressive facilities. From sports to drama to arts and crafts, Barracudas will suit your child, whatever they're into!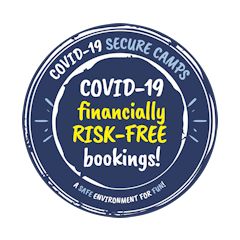 It's Barracudas' mission to "give every child such an amazing experience they can't wait to come back!" Well, the proof is in the pudding and children return to camp year after year. With an unrivalled choice of activities, a 5 star Trust Pilot rating and Ofsted registered, Barracudas is an excellent choice for both parents and children.
With the recent pressures of home schooling and the impact on both parents and kids, families can really benefit from holiday clubs. At Barracudas kids can socialise with their peers, try new activities and learn new skills, whilst parents can get on with their day knowing their children are having a blast.
This year it's unlikely that any of us will be going very far. With staycations the name of the game, it's more important than ever to have something to look forward to. Barracudas is a great option for kids to get excited about. By booking a full week, you can get a real bargain with the preferential rate, kids can get a full week of fun and you know they're in one setting in secure group bubbles so keeping as safe as possible. If it's days you want, Barracudas offers complete flexibility and some great multi-booking discounts.
Barracudas run COVID-19 Secure Camps. Their dedicated team have put in place a COVID-19 Secure policy and developed a strategy (The 4P's) to make sure their camps are operating safely. Here's a quick view of their 4P's:
PLANNING
Reduced number of places at camp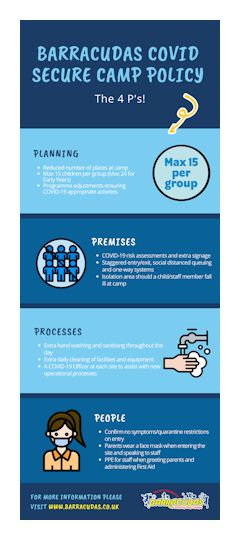 Max 15 children per group (Max 24 for Early Years)
Programme adjustment ensuring COVID-19 appropriate activities
PREMISES
COVID-19 risk assessments and extra signage
Staggered entry/exit, social distanced queueing and one-way systems
Isolation area should a child/staff member fall ill whilst at camp
PROCESSES
Extra hand washing and sanitising throughout the day
Extra cleaning of facilities and equipment
A COVID-19 Officer at each site to assist with new operational processes
PEOPLE
Confirm no symptoms/quarantine restrictions on entry
Parents to wear a face mask when entering the site and speaking to staff
PPE for staff when greeting parents and administering First Aid
As well as reassuring parents that your children are in a safe environment, they're also offering COVID-19 financially risk-free bookings, so your child can't attend camp because of COVID-19, you won't miss out.
It's not just the kids they think of! Barracudas is easily accessible for busy parents and they offer added flexibility with their Extended Hours from 8am to 6pm to ease the pressure of the commute.
For as little as £3.48 an hour, children are guaranteed a fantastic choice of quality activities, delivered by highly qualified, enhanced level DBS checked staff. With over 80 activities to choose from, they're sure to have a brilliant time, whatever they're into!
Barracudas are so confident that your child will have 'such an amazing experience they can't wait to come back' that they offer a 'money back guarantee' for all new bookers. That's more reassurance than you can shake a stick at!
Get more information about Barracudas and find your nearest camp here:https://www.barracudas.co.uk/ or call the team for more information on 01480 467 567.