Children's Educational Toys and Books in Sark
Help babies and children have fun learning with educational children's toys, children's puzzles, children's games and children's books from top brand names including Geomag, John Crane, Le Toy Van, Playmobil and lots more.
Category: Children's Educational Toys and Books
Memory Motivators
Dyslexia Friendly Learning Activities that are FUN for all the Family
All Memory Motivator products are quality, educational activities that have been selected to increase self-confidence and stimulate the learning process in reading, spelling and arithmetic. Products include: handwriting activities, spelling games, software, numeracy resources and Active Learning Place Mats. The Active Learning Place Mats were short-listed for 'BEST GIFT FOR KIDS' Gift of the Year 2004!
Fax: 01604 505001
Email: [email protected]
Web: www.msl-online.net
Address: Multi-Sensory Learning Ltd., Highgate House, Creaton, Northamptonshire
Category: Children's Educational Toys and Books
Where your child develops games and skills for life! Through the power of play, fun, and super lasers!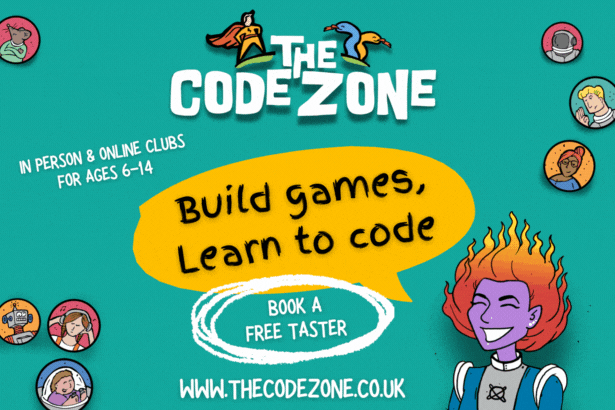 LEARNING TO CODE SHOULD BE ENGAGING, CHILD-LED AND SUPPORTED
We know that learning to code should be all about having fun, getting creative and feeling the freedom to explore without constraints! It's less about lecturing and more about nurturing and enabling your child on their coding journey. The power of learning through play is real. Our projects, clubs, and 1-2-1 sessions perfectly support your child on their coding journey.
Watch - Easy to follow, step-by-step video tutorials teach you how to code
Code - Simple drag and drop code to create, and "hack" your own games
Play - Play newly created games and share them with friends
Email: [email protected]
Coding classes both online and local clubs in Cambridge, Haverhill, Saffron Walden & Bishops Stortford
Category: Children's Educational Toys and Books
Traditional Wooden Toys, Gifts, Games, Puzzles, Baby Gifts and Clothing
You will find everything from cute TY Beanies toys, boardgames and puzzles, outdoor toys and fancy dress outfits and pretend play kitchens to clever experiment sets and other educational toys and furniture.
A favourite of the kids as well as parents in Edinburgh, Gulliver's is home to innumerable little and big toys that will delight your baby, toddlers or primary children.
The sheer range of toys offered covers educational activities and physical exercises to fantasy play and party bags thus covering most needs.
Whether you're looking for something clever for your 5-year old or hunting for the perfect toys storage box Gulliver's Toys & Gifts will provide you with a plethora of options.
Address: 165b Bruntsfield Place, Edinburgh EH10 4DG
Category: Children's Educational Toys and Books
RwRR
Is your child/adult learner struggling with spelling and related skills?
Is your child/adult learner underachieving or is possibly dyslexic?
Do you want to see him/her succeed NOW?
RwRR can help you. RwRR (Read it wRite it Remember it) is a unique multisensory STRATEGY, which deals with common areas of failure regarding spelling and related skills and due to its flexible nature it can be tailor-made to individual, group or class needs with little or no preparation.
Our selection of workbooks, flashcards and guides give parents and teachers the tools to help learners acquire the necessary skills for confident spelling. This will in turn help with better long and short-term memory, better concentration, improved self-esteem and encourages independent learning.
Visit our website today and discover an exciting way forward and one you will want to tell others about!
Mobile: 07752 599968
Email: [email protected]
Category: Children's Educational Toys and Books
Providing Key Stage 1, 2 & 3, GCSE, IGCSE, A Level or general tuition
3A Tutors Ltd is a well-established Bristol based tuition agency offering high quality, one-to-one tuition with experienced, subject specialist tutors.
Tuition is available in many subjects ranging from Key Stage 1 to A Level!
Tuition is tailored and adapted to meet the specific needs of each student, helping to build key skills and confidence, assisting with problem topics and working on exam technique, etc., as required. All material is covered at the student's own pace.
We work with fully DBS checked, experienced tutors who have at least a degree in their primary subject specialism.
Tuition can be conducted either face-to-face (in the Bristol area) or online (nationally).
Daytime, evening and weekend tuition is available. Tuition is very flexible – we can offer long term, short term, ad-hoc, weekly, fortnightly or intensive tuition.
We offer very competitive hourly rates!
We can provide mock examinations with feedback and a grade – completed either at home or in an exam setting!
Simply visit our website or contact us for more information!
3A Tutors Ltd is also a registered National Examination Centre (50538) offering private candidate examination entry for GCSEs, IGCSEs and A Levels with all the main UK examination boards.
Address: 1A High Street, Staple Hill Bristol BS16 5HA
Tel:
0117 910 9931
Fax:
0117 956 2740
Category: Children's Educational Toys and Books
Providing professional tutoring to Key Stages: 1, 2, 3, GCSE and A-Level students.
Established in 2012, Personal Best Education has over 10 years experience in supporting the local community. Our high level tuition is tailored to meet the specific needs of each of our students.
Fully DBS checked experienced tutors are in place to help build students key skills and confidence as well as gain extra support in specific subject areas to improve students grades. Tuition can take place in our Education Centre at our Romsey office or from the comfort of your own home either face to face or via Microsoft teams.
Every student will get their own student portal, where feedback and video recordings of the completed sessions can be found for revision purposes.
Email: [email protected]
Private tuition for ages 11-16 in English, Maths and Sciences. Face to face in Romsey or online
Category: Children's Educational Toys and Books
Educational resources for developing children's emotional literacy
A range of educational resources that focus on developing children's social, emotional, literacy skills and overall well-being.
Email: [email protected]
Category: Children's Educational Toys and Books

Bauhaus Educational Services Ltd
Tuition and Registered Exam Centre
We provide unique tuition programmes for students of all levels across a range of subjects. Each child is provided with a series of one-hour tuition sessions with a subject specialist, either in person at our Northampton-based offices, or remotely.
Tuition is tailored to the needs of each student, making the lessons truly unique and targeted to their strengths and weaknesses in order to maximise students' potential.
Along with our 1:1 tuition, we are also an examination centre, meaning that your child can sit their exams with us. This is ideal if your child is home-schooled, needs to re-sit an exam, or struggles to cope in the standard examination environment.
We offer these services as an Ofsted registered and reviewed centre, meaning that our quality and standards are held to account, so you can expect the best for your child.
All of our tutors are experts in their fields and have undergone full DBS checks. They are experienced and can adapt different teaching styles to help their students make rapid and significant progress.
Email: [email protected] [email protected]
Web: https://www.bauhaus-education.co.uk/
Category: Children's Educational Toys and Books
Home Schooling & Private Tutoring
The World-wide Education Service (WES) is one of the leading providers of home education courses worldwide. We supply accredited comprehensive, up-to-date learning courses for children aged 4-14 years. No previous teaching experience is required.
WES is designed to create a school in the home, this is particularly beneficial where education facilities are limited or, where there is a need to "top up" local school education.
Our service includes:
An initial assessment of your child's educational level.
Courses tailored to the individual needs of your child, based on the National Curriculum of England.
All necessary books and materials to support the subjects.
An introduction from your WES personal tutor who will advise and support you in your role of teacher.
Regular assessments of your child's progress.
A final report detailing your child's educational level to hand on to future schools.
A Certificate of Completion
WES is also able to offer a home schooling package for special needs children. Coursework can be adapted to accommodate specific requirements.
Category: Children's Educational Toys and Books
The Exam House GCSE & A level Exam Centre for pupils and private candidates. Including access arrangements. Alongside our exam tutors.
We serve customers throughout the UK.
Buckinghamshire Address:
128 Chesham High Street. Buckinghamshire HP5 1EB
London Address:
8a Lower Grosvenor Place, London SW1W 0EN
While offering the widest choice of exams for GCSE and A level, we also bring fast GCSE and A levels
Category: Children's Educational Toys and Books
SenseToys
SenseToys offers practical information and an interesting range of toys and activities for pre-school children and particularly for children with special educational needs – all based on first hand experience!
The emphasis of our resources to promote the acquisition of language through play for both verbal and non-verbal children.
SenseToys was set up by parents of two children with special needs, one with a language delay and one with autism. The carefully selected range of resources aim at helping children acquire language through play by helping to make learning fun and rewarding. Even the most ordinary toys can help your child if you know how to use them effectively.
The range includes thick wooden jigsaws with simple non-stylised pieces, lovely fabric beanie bags to teach shapes and colours, threading activities with large holes and chunky pieces, cause and effect toys and a great selection of tactile and sensory balls for lots of squishy bouncy fun. We also now include basic games and actvities to help with alphabet, counting and language concepts such as prepositions, opposites, small medium and large and we have a new range of toys to facilitate construction play.
Tel: 0845 257 0849 for a catalogue
Web: www.sensetoys.com
Category: Children's Educational Toys and Books
Celebrating Art and Story
Barefoot Books is an independent, award-winning publisher of children's books and gifts! Inspired by cultures all over the world, Barefoot creates imaginative and playful books to open the hearts and minds of the children in your life.
The Barefoot collection celebrates imagination, creativity and diversity and includes:
Engaging board books for babies and toddlers
Colourful books with sing-a-long CDs for pre-schoolers
Picture books with story CDs and breathtaking anthologies for older children
Putumayo Kids CDs with global music
Handcrafted puppets, puzzles, games, and more!
Our extensive website offers easy browsing, inspired gift ideas, resources and fun sheets, and a secure ordering system online or through our customer service line. Visit barefootbooks.com to Go Global, Go Green, Go Barefoot!
Email: [email protected]
Category: Children's Educational Toys and Books
Are you struggling to find the help you need for your child?
As a qualified doctor with twenty years' experience in the NHS, Kerry has developed a deep understanding of medical and psychological issues.
Trained in clinical hypnotherapy and a variety of psychotherapeutic approaches, including Mindfulness, CBT, Solution-focused therapy, coaching and EMDR, Kerry creates bespoke holistic therapy solutions. She is skilled in helping children and teenagers to master their own emotional, behavioural and medical problems.
Email or call Kerry to find out more.
Address: 11 Manor Green Stratford-upon-Avon Warwickshire CV37 7ES
Tel:
0800 0025892
Mobile:
07889 721159
Category: Children's Educational Toys and Books