Simple Paella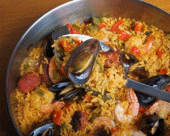 Paella is easy and you can tailor it to suit your family's taste. This one uses both chicken and fish you could use either or just substitute for more veg and vegetable stock. Use a large frying pan. Keep an eye on the rice once you start adding the stock, you calculate 21/2 cups of stock for each cup of rice, depending on which type of rice you use you may need less or more, taste rice towards the end of cooking for firmness, the rice should be slightly al dente, ideally you would like a small amount of liquid still left in the pan so when you cover it with the tea towel the rice will absorb it and finish cooking.
Serves 4
Ingredients:
1 x small onion diced
1 x clove of garlic chopped small
1 x table spoon of parsley chopped s
1 x red pepper
4-6 chicken thighs
50 gms frozen peas
Small tin of chopped toms
Mixture of mussels, squid, scallops, prawns
2 cups of long grain rice
Chicken stock – 21/2 cups per cup of rice
Pinch of saffron
Method:
1. Dice your onion and red pepper, chop garlic and parsley. If chicken is on the bone or thighs are large chop in half.
2. Heat a small amount of oil in a large frying pan over medium heat fry onion and pepper for 3-4 mins
3. Add garlic and parsley fry for another 2-3 minutes.
4. Add chicken and fry until golden and cooked through
5. Add tin of tomatoes
6. Add peas and fish and fry for a further 4 mins.
7. Add rice, mix well then add 2 cups of chicken stock, simmer until enough room to add more stock. Add saffron and season to taste.
8. Taste rice for firmness, when cooked remove from hob and cover frying pan with a clean tea towel for 10 mins.
9. Serve and enjoy!