Easy Peasy Lasagna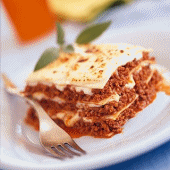 Ingredients
For the meat sauce:
1lb of mince beef
1 x onion
3-4 cloves fresh garlic
400g tin of chopped tomatoes
1 tsp of basil
1 tbl of oregano
For the white sauce:
1oz plain flour
25 grms butter
¾ pint of milk
9 strips of uncooked Lasagne pasta
A generous helping of grated cheese
Method:
1. Pre-heat oven to 350°F (180°C, Gas Mark 4).
2. Chop the onion and garlic and brown off in a frying pan. Then add the mince beef and brown.
3. Add the tomatoes and stir.
4. Add the Orgeano and Basil and season. Simmer for 30 mins
5. Put milk, 1 bay leaf and half onion in saucepan and bring to the boil. Take off the hob and leave to infuse for 10-15 mins.
6. Melt the butter in a sauce pan, add flour to make a paste. Cook for 1 min.
7. Remove saucepan with flour mixture from the hob. Sieve milk into pouring jug then pour a couple of ladles full at a time into flour mixture and stir well with wooden spoon making a smooth and creamy sauce, keep adding the milk slowly.
8. Once all milk added bring saucepan back to hob and bring it to the boil stirring constantly, then remove pan form heat.
8. Now layer the ingredients, starting with the meat sauce, then white sauce then a layer of pasta, do this three times and end with white sauce if you have any left and a layer of grated cheese on the very top.
9. Put it in the oven to cook for about 45 mins or until nice and brown on top.
Serve with garlic bread and salad.