KONFIDENCE LAUNCH UNIQUE NEW UV CLOTHING RANGE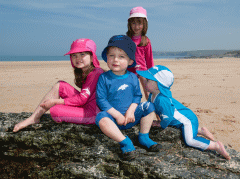 KONFIDENCE LAUNCH UNIQUE NEW UV CLOTHING RANGE
Konfidence, Europe's leading designer and manufacturer of premium swimming products for babies and children, has unveiled a unique new range of UV clothing this month. The collection comprises long-sleeve t-shirts, long sleeve sun suits, shorts, and legionnaire style hats for children aged six months to 14 years.
Konfidence is excited about the new range because it uses a material called PBT. PBT is already used in high-end sportswear because of its extraordinary properties and Konfidence now leads the way in using the inherent benefits of this material in the design of children's UV clothing.
Mechanically strong, PBT is perfect for body-huggable clothing, and when compared to lycra, it is proven to retain its shape for longer, is far more chlorine resistant and able to maintain a greater consistency in its UBF 40+ protection rating over the life of the garment.
For ease of use, PBT is also quick-drying which means it is great for both in and out of the water – removing the need to dry little ones to prevent chills. Plus the sun suits for ages 6-12, 12-18 and 18-24 months incorporate crotch poppers to make nappy changing as easy as it can be.
The fabric is lighter too, and does not pull or snag like lycra when it comes into contact with rough surfaces, i.e. on the beach or in the garden - a key point for children, especially those too young to take special care of a lycra suit.
Andrew Regan, Founder of Konfidence, said; "PBT is made from a slightly thicker material making it ideal for children's UV clothing because it is less prone to stretching and will last and protect for longer, offering parent's best value for money."
Konfidence launches the new colour co-ordinated range, which can be worn in or out of the water, in a choice of three bright and stylish colourways - nautical/cyan; dark pink/soft pink; and cyan/white.
To see the new UV clothing range – and Konfidence's full range of baby swimming products, children's buoyancy aids and sun protection clothing plus wetsuits and beach boots – visit www.konfidence.co.uk or telephone 01566 777887