Click IT!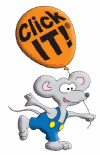 Click IT!
A unique company teaching IT Skills to pre-school children from 2 years old.
We all know that computer skills are an essential part of our children's development, which are taught from an early age in the school curriculum. However, children from an age as young as two have shown their aptitude in learning and picking up ICT skills that go on to help them later in their education.
Click IT! has a unique educational programme that it has been teaching to children in nurseries for the past ten years. It follows the EYFS (Early Years Foundation Stage) guidelines and "it is as important as the 3 R's" says founder Wendy Petersen. When Wendy's daughter aged two began to take an interest in her computer, Wendy quickly realised that there wasn't a great deal of tuition for pre school children. At Click IT! the children are taught computer skills through activities aimed at their age group, which are fun, educational and creative.
Award winning Click IT! is now expanding throughout the country through franchising, satisfying the great demand to teach children ICT in local nurseries. "Computers can aid creativity, self expression and developing verbal dexterity skills. They are a vital part of everyday life" says Wendy. "The children really look forward to their lessons and the nurseries love it too, as they are able to offer this unique programme taught by professional staff ensuring a full curriculum is achieved".
For further information regarding the Click IT! franchise opportunity, please call 020 8429 7168 or visit www.clickit-kids.co.uk.