Amazing Treehouses from Rainbow Play Systems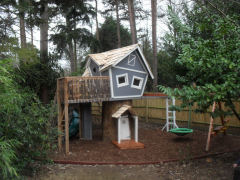 Amazing Treehouses from Rainbow Play Systems
These incredible treehouses can be built in most gardens and unlike normal treehouses they come with their own tree!
The attached example uses a 300 year old oak tree that was lying in a field in the Midlands. Weighing well over a ton the first challenge is actaully picking up the tree and moving to our warehouse.
Once back at base the tree is hollowed out by chainsaw and this process can take anything up to 2 days to complete. This includes shaping the doorway though which the adventures begin. When the tree is complete we can start work on the Bent and crooked fairytale house that sits on top. This is no ordinary house. There are no straight lines and the walls and roof are designed to look like they are falling down. The house is topped with the finest cedar shingles to complete the natural look.
Your imagination is the limit when it comes to adding play features on to the treehouse. The side platform shown in the attached photo has bannisters made from the staves of cherry brandy barrels and from the platform you can walk through a crooked door in to the fairytale house or you can decend the 360 degree spiral tube slide.
If that is not enough you can climb the rock wall, climb along the monkey bars or relax lying on the birds nest swing.
Find out more HERE