Why Fire Tech?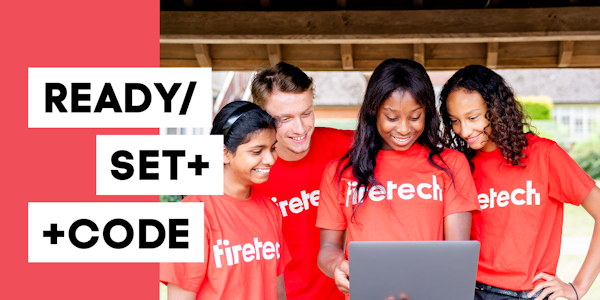 Fire Tech is the UK's leading provider of tech courses for 9-17-year-olds and was set up by Jill Hodges, a London mother of two, because she was concerned her own kids weren't learning the skills they needed to thrive in the technology-driven world.
They've delivered over 12,000 courses to kids across the UK, the Middle East and Australia, and been invited by governments from around the world to bring their unique STEM courses to local markets.
Their focus on creating and problem-solving with tech, in a fun and supportive environment, attracts parents and tech-curious kids. They offer courses in Digital Media (how to be a YouTube creator), Robotics (where kids program robots to manoeuvre autonomously) and coding (covering the full coding portion of the GCSE Computer Science curriculum in the first three days of their Teen Python course).
Why Fire Tech exists
Some say 60% of children in primary school today will work in jobs that don't yet exist. 21st-century life requires young people to be adaptable, creative problem solvers. Young people with tech skills will have an advantage both in jobs and in creative tools. Kids aren't going to get those skills sitting in front of a computer screen as a passive consumer.
It's not just blue-collar jobs that will be replaced with technology, but white-collar jobs will be revolutionised, too. Whether that's the role of a surgeon, entrepreneur, investment banker or corporate lawyer.
The world needs young people who are curious, creative and resilient. That's why Fire Tech's workshops put an emphasis on "hands-on learning." Their courses use a project-based learning pedagogy, and there are no in-course assessments.
This frees the students up to take creative and intellectual risks while they work on original projects that are meaningful to them. At the end of most classes, the students have completed original work that they can share – whether that's creating their own video game, publishing a website or having an online portfolio of their photography work.
What are the benefits of Fire Tech?
Small class sizes. Maximum of eight students to one tutor

Specialist tutors from some of the UK's best universities

(meet them here)

Classes are taught in aspirational locations like Imperial College London, Wycombe Abbey and the University of Manchester

All courses are designed in-house by their curriculum developers

Scholarships are available. Childcare vouchers accepted.

Courses run for five days over the Easter and Summer holidays

Fire Tech say one course could change your whole life

(watch this testimonial)
Latest initiative
Fire Tech's founder, Jill Hodges, said "Girls make up 28% of students at Fire Tech, which is twice the national average" but according to them, it's not high enough. She continues "Lots of girls love creating with tech, and we know even more would love it if they had the chance. But, sometimes, teens are concerned they might be the only girl in their class. That's why in 2019 we're offering all-girl classes, usually led by a young, female instructor – so all girls can work, play and be inspired by tech, in an environment that supports and encourages them."
www.Fire-Tech.com
E-Mail: [email protected]
Tel: 020 3950 7310
Instagram → https://www.instagram.com/firetechcamp/
Twitter → https://twitter.com/FireTechCamp
Facebook → https://business.facebook.com/FireTechCamp