The UK's Favourite Tech Courses For Kids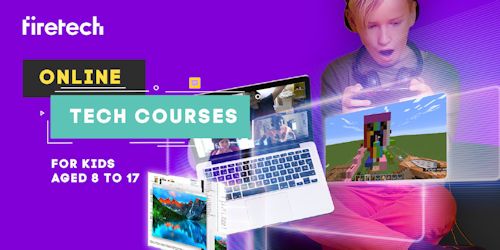 GET £25 OFF! Collaborative tech fun for 8-17-year-olds between 15th – 19th February 2021. 5-day online courses in Python Coding, Game Design, Artificial Intelligence & Digital Photography. Taught live by subject specialists. Use code: ALL25
Fire Tech's mission is to give young people the tools and inspiration to become the tech creators, makers, and leaders of the future. They have delivered over 70,000 learning experiences to young people across five continents. Courses include Python & Java Coding, Artificial Intelligence, Game Design, Digital Music Production, and more. Each course is designed to teach young people 21st-century skills such as design thinking, collaboration, and problem-solving.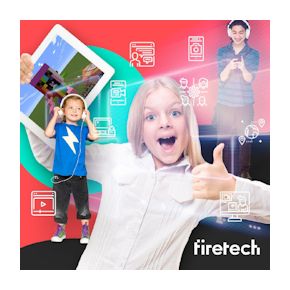 Each year, Fire Tech supports thousands of students via their online courses taught by tech-savvy expert tutors from the UK's leading universities like Cambridge University, Imperial, and King's College London. Their courses run during the school holidays, after school during term time, and year-round on their self-guided platform and one-off short experiences.
Since launching in 2013, Fire Tech has delivered over 70,000 learning experiences to young people across the world and partnered with some of the world's biggest brands like Amazon and Barclays, and with international governments in Oman, Seychelles, and Gibraltar. Jill Hodges founded the company when she realised that she couldn't find a way for her own kids to learn creative tech skills, either in or out of school. She wanted to provide a place where kids could get hands-on and experiment with a wide range of technology concepts.
Jill Hodges, Founder & CEO shares,
"Parents know that tech isn't just for techies anymore and digital skills are necessary to function in everyday life and relevant for a range of careers - from a surgeon to a teacher. This is why Fire Tech is not just aimed at the data scientists and engineers of the future. The lessons that our kids learn at Fire Tech will allow them to be better photographers, more informed doctors, deeper researchers, more creative stylists, broader communicators, stronger analysts, creative problem solvers, and brilliant entrepreneurs."
Here are some real quotes from students who joined their programmes:
"Fire Tech makes me think bigger. I'm limitless" ― Memaan, a 10-year-old Junior coding student.

"This course really helped me. I want my own business one day and this will be useful for designing backend process." ― Daniella, a 14-year-old Python student.

"At Fire Tech, we got encouraged to learn and try out new things like machine learning and AI. I loved it!" ― Ella, a 15-year-old Artificial Intelligence student.
Find the latest promotional video here.
GET £25 OFF! Collaborative tech fun for 8-17-year-olds between 15th – 19th February 2021. 5-day online courses in Python Coding, Game Design, Artificial Intelligence & Digital Photography. Taught live by subject specialists. Use code: ALL25
Book: www.fire-tech.com | Contact: 020 3950 7310 | [email protected] | Scholarships and childcare vouchers are available.