Get Your Kids Coding!

Kids join the coding revolution – but which language first?
With all the current talk about digital literacy; STEM and coding skills, it seems the message is rubbing off on parents who are increasingly looking for options outside school for their children to get a step up on the digital ladder. At Tech Camp we have seen a marked increase in the demand for coding courses not just because it helps teach persistence, logic and problem solving – but because kids just find the challenge fun! Like other areas of the industry we also find the number of girls taking part in courses and tutoring are increasing each year. This is a worldwide expansion – last summer camp season we had keen techy kids from 18 different countries all desperate to learn to code!
We are often asked which programming language to learn first - it can be a very confusing subject with so many options out there. Choosing the right starting point is important, especially when it comes to children - something too simple can easily result in boredom, and a lack of motivation and interest to continue. Choosing something too difficult to get to grips with can equally result in a loss of enthusiasm or long term 'phobia' of coding in general.
It is important to remember that although there are several languages out there which are well regarded and described as 'industry standard', they sometimes do not have enough introductory material and tutorials available to make them practical to learn as a first language. So – here are some suggestions:
Ages 9-12 (and younger!)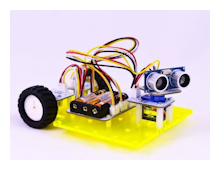 At a young age, trying to learn new abstract concepts using a text based language can be extremely difficult, so it is generally a good idea to avoid them; it is far more important that children are taught to understand general programming concepts, instead of being able to write something in a specific language. Once these concepts are grasped, they can quickly be applied to a text based language.
There is a wide range of great 'drag and drop' style programming tools available for teaching these ideas in a child friendly way – Blockly is one of our favourites; simple, "open source" (free) and a great introductory tool we often use at the beginning of courses to get the campers 'jumping in' straight away. It is very similar to other block based visual languages such as Scratch on the Raspberry Pi, another popular option for this age group.
We believe that learning a language in conjunction with a physical result - a moving robot or other external electronics, is crucial to understanding the concepts quickly and providing a fun, immersive environment which is not just about staring at a screen. Our favourite product for younger kids is the Crumble - a small electronics board, easily programmable using block based drag and drop language, to which you can easily connect any electronic components you like! Our brand-new Robot Inventor Course is based on the Crumble, providing a great introduction to programming whilst using a specially designed clip together, modular electronics system.
Ages 13-17 (and beyond!)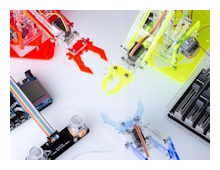 For teenagers, the choice can be even more daunting, with a huge array of languages available. There are many online tools and tutorials for every language possible, each claiming theirs is the best. We believe there are two crucial aspects to choosing a first language: how much it teaches you and prepares you for understanding other languages, and how popular it is for real world applications. There's no point in learning something very niche that is not transferable to another language, or is only useful for one application!
Another important factor is the availability of resources, and the size of the online community available to help solve problems. Some languages have such a large user base that almost every possible problem has already been answered in some form.
C++ is an excellent choice for a first text-based language - it is very powerful and allows you to quickly pickup other languages afterwards such as Python, Javscript and C#, it is extensively used for software development and games on all platforms (and was used to build Google!)
C++ has a huge user base so searching for your problem will usually give you an answer, and it is taught as a first language by most top UK University engineering and computer science departments. The well-known Arduino platform, with C++ base learning tools is used by makers everywhere, to create everything from automatic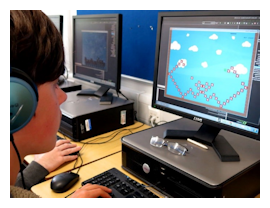 toasters to highly intelligent autonomous robots. We teach C++ using the Arduino environment, our most advanced course is Robotic Arms, giving a great grounding in C++ using a 4 axis robotic arm kids build and code themselves.
Python is another great option, used extensively in web, software and game development; very straightforward to grasp. It is growing in popularity due to simplicity of use and understanding. It is a very popular language on the Raspberry Pi. Our Game Design courses use Game Maker for design, image and sound editing, as well as scripting using a Python based language to make professional level cross-platform games.
Overall, the most important thing is to learn something - programming is perhaps one of the most transferable skills there is - in an increasingly computer-based society, soon those programming skills will be required, not preferred!
Get those kids coding!
Our mission is to 'inspire tomorrow's inventors', and encourage kids to acquire new technical skills – either on the computer or via a soldering iron – we work with those engineers of tomorrow and encourage design, practical skills and foster the ability to learn from those inevitable mistakes and make your creations and coding work. All courses involve innovative take-home results
Established in 2008 by Tom Ward, an Electrical Engineer and previously Head of Science, Tech Camp is the UK's original and longest-running provider of such camps. Students can attend at either Winchester (residential) or one of our 5 other non-residential venues – Chelsea and Harrow in London, Abingdon, Weybridge and Coventry.
We are currently offering a 5% discount off your first booking if you join our mailing list, follow this link: http://techcamp.org.uk/fb2017