Because adventure matters …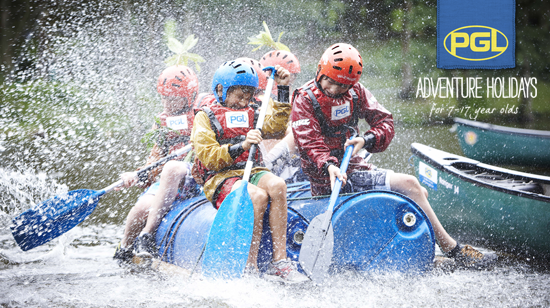 So much more than just a holiday
In so many ways, our adventure holidays are a very special kind of fun! For a start, they're adventures that are just for 7-17 year olds, they can choose from a range of almost 30 unique holidays at centres across the UK and France, so there's a perfect holiday for every child!
They're all about your child gaining some independence, confidence and meeting new friends, trying new activities and most importantly having tonnes of fun in the place that matters most – the great outdoors. With expert tuition and careful supervision, your children can try their hand at any number of amazing activities from climbing and raft building to motorsports and sailing and many, many more! There's no such thing as a typical day at PGL!
We offer an amazing array of holidays to suit every interest! UK Multi Activity holidays are our original and most popular choice amongst parents and children! They offer programmes that are bursting at the seams with new and exciting activities, offering children the chance to enjoy holidays full of challenge and adventure all day, every day! Choose from our original '7 night UK Multi Activity holidays', 'Mini Breaks', 'First Timer Weeks', 'Introductory Adventures' and even birthday parties! Request a FREE brochure or visit our website to find out more about our Multi Activity holidays.
Not only do we have a great range of UK Multi Activity holidays, we've developed 25 fantastic Specialist Holidays split into four handy categories so it's super easy for your child to find the perfect fit for them! All are completely unique, yet they all have one thing in common, great adventure! Your child is sure to find something they love, whether it's a new hobby, learning a new skill, foreign travel and much more! Our four Specialist Holiday categories consist of:
'Action & Adventure', thrilling adventures for those who love a non-stop buzz! Including Wet & Wild, Motorsports and Adrenaline Adventure to name just a few!
Our 'Love to Learn' category combines classic adventure holidays with an added value, where children can develop new skills including Cook's Academy, Learner Driver, Horse Riding & Trekking and more.
Our 'Creative Kids' category is perfect for those with a more creative side! We have a great range of innovative holidays including Film Making, Video Games Design and a Photography Adventure!
Finally we have our 'Overseas Adventures', the ultimate PGL adventures! Bigger and bolder holidays in France and Austria including our fantastic Two Centre Adventure where children visit two centres in France enjoying watersports on the Med and a breath-taking canoe descent of the famous Ardèche River!

Take a look at our amazing array of Specialist Holidays on our website (www.pgl.co.uk/holidays) or request your FREE 2016 brochure for more information!
To make sure each and every one of our guests gets the most out of their adventures and create memories to last a lifetime, we work in small age groups from 7-10, 10-13 and 13-16 (9-17 in France) that create good group dynamics and put even the most nervous children (and parents) at ease.
We believe that every adventure starts with a first step and we understand that taking that first step as a parent can be daunting too, but we know the rewards you'll see are worth it! Alongside the thousands of children and parents we see returning each year, we welcome many PGL 'first timers' too. For most, it's their first time staying away from home so to give a 'toe-in-the-water' experience and a chance to see what we're all about, we have a fantastic first time offer just for you!
We're offering an incredible up to 40% OFF* your first PGL Adventure Holiday in 2016! All you have to do is request our FREE 2016 brochure which will be sent to you with details of this fantastic special offer and an offer code to get the discount! To get your hands on a brochure simply give us a call on 0333 321 2114 or visit our website (www.pgl.co.uk/holidays) where you'll find the brochure request under the 'Contact Us' tab.
Make 2016 the year of adventure!